FNB Rewards
---
Bank with FNB and get rewarded
Earn Cash Back with FNB Rewards and have it paid into your free linked Savings Pocket every month, for you to spend, save or invest however you like. Our focus is placed on finding new ways to help you save money and do more with your bank account, it's never been this easy to earn Cash Back.
Qualify
---
Get ready to earn
Let's see if you meet the requirements. To qualify for Rewards from
FNB, you'll need to meet all three requirements that are specific to
your FNB Lifestyle Account.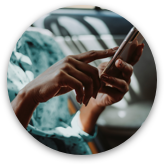 Active account
Have an active FNB Lifestyle Account with a minimum monthly turnover.
Read more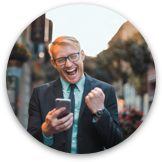 Account in good standing
This means your account isn't overdrawn, in arrears or in default, and you aren't undergoing sequestration or any legal process.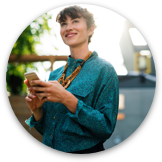 Give marketing consent
You can give marketing consent by visiting www.fnbnamibia.com.na and agree that FNB may send you product and promotional information.
Achieve
---
Move up a reward level
Once you qualify to earn Cash Back, you need to start working towards moving up to a higher reward level. The higher the level, the better the rewards!
The maximum Rewards Level is 4, where you will earn the highest amount of Cash Back from consistently banking in line with the goals that are clearly explained in the PDFs below.
Earn
---
It's easy to be rewarded
Once you've qualified and established a reward level, you'll be ready to start earning
Cash Back on a monthly basis, for you to spend or save however you like.
The rewards tables below show the different rewards levels, and how much Cash Back
you could earn on each.
Rewards tables
Spend
---
Shop or save - it's up to you
You can transfer the Cash Back you've earned from your linked Savings Pocket to your Lifestyle Account to allow you to spend it whenever you need. If you'd rather save your Cash Back - great! You can leave your earnings in your Savings Pocket and watch it grow. You can access the money in your Linked Savings Pocket via any of the following channels; Cellphone Banking, the FNB App, Online Banking or any FNB ATM.
Rewards made easy
---
Qualify, earn and spend your rewards
Qualifying criteria
An active FNB Lifestyle Account with minimum monthly turnover:

Gold Lifestyle Account - N$2 500

Platinum Lifestyle Account - N$20 000

Private Clients Lifestyle Account - N$40 000

Private Wealth Lifestyle Account - N$60 000

Ensure that all your FNB accounts are in good standing

Provide FNB Namibia with marketing consent

Have an active free linked Savings Pocket
First National Bank of Namibia Limited, Reg. No. 2002/0180.